20 Minutes Away from Pizza Excellence
Time to go to Piazza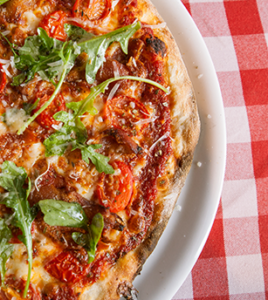 The City of Arnold was incorporated in 1972 and became part of Jefferson County, Missouri. Named after former President Thomas Jefferson, this area of St. Louis is noted for its salt springs. It soon became a spa and resort area attracting Native Americans and newly immigrated Europeans. The first European settler was Jean Baptiste Gamache who operated a ferry boat across the Meramec River in exchange for land from the King of Spain. After the war of 1812, discussions of moving the nation's capital to Arnold were considered, but were eventually extinguished. Today, an established military cemetery continues to draw many who want to thank the entombed soldiers. As a popular tourist destination, the area grew into a prosperous business town.
With many State parks adorning the landscape, Arnold is the outdoorsmen's playground. And after exploring the sloping glades in the Valley View Glades Natural Area, or hiking along the historic trails of Mastodon State Park, it's easy to see how you could work up a hearty appetite. Whether you live in Arnold, St. Louis, or are visiting from out of town, if you're looking for a distinguished pizza eatery with authentic Sicilian flair, head to Café Piazza – only twenty minutes from Arnold.
Café Piazza is a local St. Louis eatery serving breakfast, lunch, and dinner. Offering a full-service espresso bar, authentic Italian gelato, and savory Italian pie, the aromas on Café Piazza's patio will transport you to the historic and picturesque streets of Sicily. The indoor atmosphere is equally as appealing, with a 1000 square foot mural on the ceiling that chronicles St. Louis' unique past. Created by renowned artist Paco Rosic, this is a must-see, visually stimulating piece of art.
For a delectable slice of Italy and a fine glass of vino rosso, make a visit to Café Piazza.
Address: 1900 Arsenal Street, St. Louis, MO
Directions: Only twenty minutes from Arnold, head north on I-55 and drive towards the city of St. Louis.
Take exit 206 C onto Arsenal Street.
Turn left onto Arsenal Street.
Café Piazza will be on your left.
Our staff can't' wait to serve our Arnold patrons!
Saluti!